MOBS: Mothers Offering Breastfeeding Support – Stroud

Breastfeeding mothers are invited to GBSN's FREE virtual face to face social groups. A Breastfeeding Counsellor (BFC) and Peer Supporter (PS) will be present and it will be a chance for you talk or share if you want to, listen to others and meet new people.
Topic: MOBS Stroud Zoom Meeting
Since we can't meet in person, breastfeeding mums and babies are invited to join our Zoom social sessions on Thursdays, 10.30-11.30am
https://zoom.us/j/95097709725?pwd=VDEycDFaZTZQTDBaNGNmaDVVNUNNQT09
Meeting ID: 950 9770 9725
Passcode: 145943
The groups are free to attend and will last for up to an hour.
Book a free Virtual 121 call here https://gbsn.org.uk/gbsn-virtual-support-registration-form/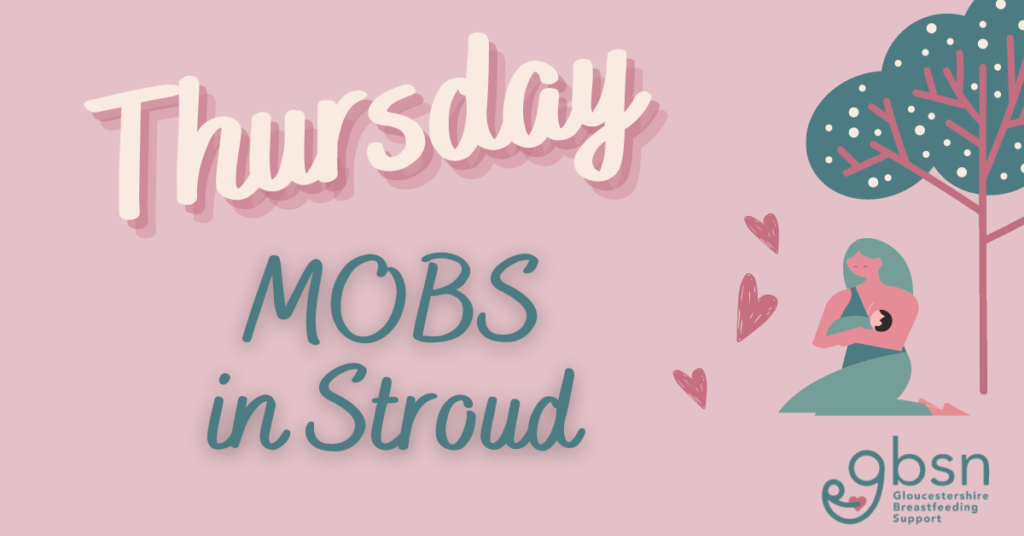 Thursday 10am -12 noon
MOBS Stroud has moved to a new venue in the Function Room at the Queen Vic, 5 Gloucester St, Stroud GL5 1QG
https://www.facebook.com/Queen-Vic-Stroud-765493117176915/
What3words – spot.blesses.sparrows
Please bring a drink and we'll provide the cake!
Breastfeeding Counsellor Lisa and the team of Peer Supporters look forward to welcoming you
Parking is available in the multistorey at Five Valleys (formerly Merrywalks), currently £1.40 for 2 hours. It is then a short walk to Gloucester Street. There may be some dropping off space outside the pub or on Lansdown Road.
It is 3 minutes walk from Stroud bus station
MESSAGE FROM THE GBSN TRUSTEES
The outdoor support groups proved popular and as the weather turns autumnal, we will continue to take precautions to keep you safe at our group.
Regulations mean that we cannot have more than 15 adults at the group excluding the paid Breastfeeding Counsellor. However, 2m social distancing remains of paramount importance. The room will be assessed before each new parent enters to ensure that social distancing is not compromised.  Therefore you may be asked to wait until someone has left.
We will be collecting information on arrival for Track and Trace via our electronic sign in forms.
Please do not attend group if you are unwell, even with cold symptoms. If you have symptoms of coronavirus you will need to isolate for ten days and your household contacts for fourteen days, unless your test is negative. Please also do not attend if you are quarantining after returning from abroad.
If you would like help with positioning and attachment ("latching") please consider booking a virtual one to one or bear in mind that we'll be socially distancing in the group
We will be ensuring rooms are thoroughly cleaned and providing alcohol gel to sanitise hands. Please wear a mask on arrival until you are settled in your space. We ask that families continue to keep 2m spacing from each other as we have done in our outdoor groups.
Please come with your own drinks, however in true GBSN style we will provide the cakes.  Please bring whatever you need for yourself and your family eg changing mat, snacks.