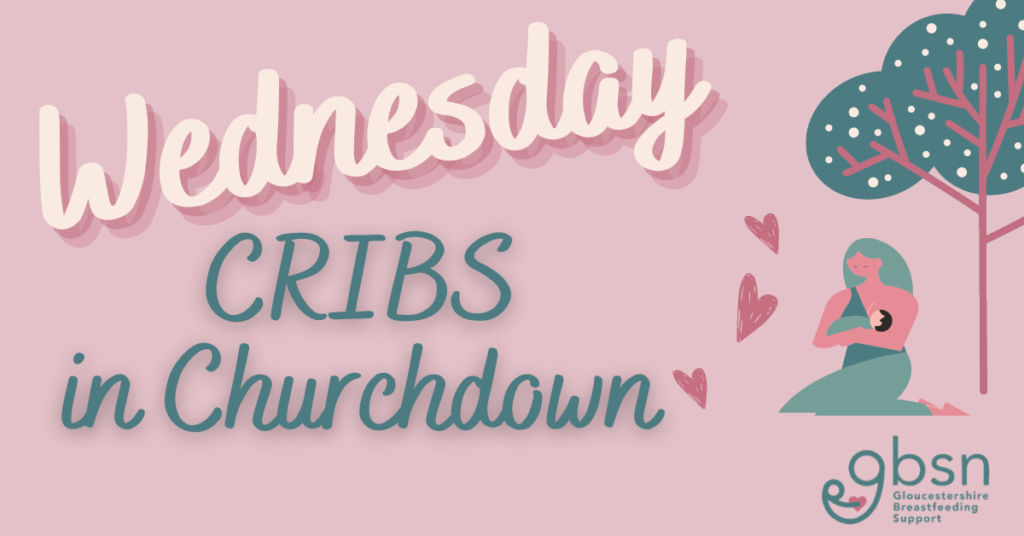 CRIBS: Churchdown Region Information and Breastfeeding Support:
CORONAVIRUS UPDATE – PLEASE CLICK HERE to see urgent message from our Trustees.
Thursdays
09:30 – 11:30
Church Hall,
St John's Church,
Churchdown,
GL3 2DB
CRIBS is a very welcoming and friendly support group. Situated in a church hall, there is a seating area where you can chat with other mums and peer supporters. There are soft mats and soft toys for babies. There is space for toddlers and older children to play with a wide range of toys. Older children are always welcome, as well as partners, grandparents etc. Hot and cold drinks (with biscuits!) are always available.
There are plenty of parking spaces in the church car park and you can bring your pushchair into the church hall (good for nap time).
We stock a wide range of nursing bras which can be fitted in privacy by a trained peer supporter. We have a good selection of books you can borrow, which cover various aspects of parenting.
Our trained peer supporters have all breastfed their own children and also have experience in Baby-led weaning. Mothers and peer supporters are also supported by a qualified specialist Breastfeeding Counsellor who attends every week.
Whether you are expecting and want to learn more about breastfeeding or are currently breastfeeding, please come and visit – you are always welcome.
We hold a special [email protected] week on the third Thursday of the month however please note that pregnant women are always welcome every week and mums with babies are still very welcome on this day too!
CRIBS is free to attend. As we are a small self-funding charity, we are always very grateful for donations, whether by cash or paypal.
PARKING, PUBLIC TRANSPORT & ACCESS
T

here is a large car park outside the Church and halls
St John's is just off Cheltenham Road East, on the corner of Parton Road and St John's Avenue, opposite the Hare & Hounds. Access is from St John's Avenue, and there is a small car park. Bus stops for the 94 and 97/98 bus routes are both within 2 or 3 minutes walk. Access is step free and there is a disabled toilet with baby changing facilities. Prams can be brought into the hall or left just outside it in the corridor.