Book a free Virtual 121 call here https://gbsn.org.uk/gbsn-virtual-support-registration-form/
During these unprecedented times of Coronavirus, here at GBSN we have adapted and innovated so that we can continue to offer face to face support for your breastfeeding journey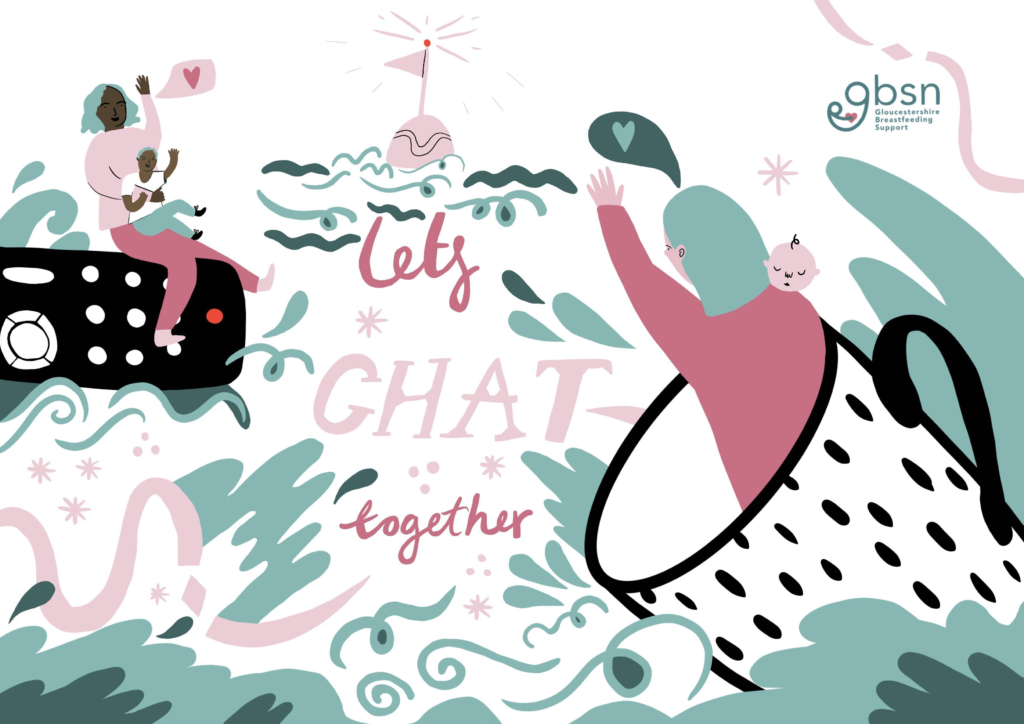 Gloucestershire Breastfeeding Supporters' Network (GBSN) is a charity dedicated to supporting breastfeeding mothers. We currently run 6 weekly breastfeeding support groups online.*
Whilst our in person breastfeeding support groups are unable to run due to Coronavirus, we are running virtual groups on Zoom.  Each session has an NCT-trained Breastfeeding Counsellor present, as well as some of our brilliant Peer Supporters.  We are running each group to mirror our in-person groups (e.g., MOBS Dursley Zoom group runs on a Monday, just like real life MOBS D).  This is so you can get to know people virtually before meeting them in real life once we are able to safely re-start our in person groups. 
Details of the six weekly Zoom meet ups are on our Facebook page events section.
Please join the group's Facebook page to find out details of the events.
Please note that you will need to have your video/camera on throughout the group as it is face to face.
Some mothers will be breastfeeding, some expressing, some mixed feeding. Some mothers will have new babies, some older babies or toddlers. Some may be starting breastfeeding, some may be weaning. GBSN recognises that every mother's breastfeeding experience is different.
If you have a breastfeeding issue or a question that you'd like to talk about with a BFC, we offer next day virtual video support, sometimes the same day (Monday – Friday). Please book a free virtual 1:1 session
If you have attended one of our Zoom groups, please fill in an attendance form – these are vital for us to evidence the support we have given when making grant applications to keep GBSN running.  Talking of which, if you would like to make a donation to GBSN please click here to find out all the ways.  https://gbsn.org.uk/how-to-donate/
Mums and Mums-to-be can book virtual face-to-face time with one of our Breastfeeding Counsellors. These are free of charge and can be booked here. We have supported over 750 mums so far and we intend to keep running these support sessions alongside our groups.
We continue our popular "Preparation for Breastfeeding" virtual workshops for expectant mothers and their support partners. More information here. We are delighted to announce that we have some funding to be able to offer these workshops FREE for a limited time. Dates are released in batches so please keep checking here
You can breastfeed and still be you.
We believe that each mother's breastfeeding experience is unique.
Each mother's breastfeeding goals are different.
Breastfeeding looks different for each mother and each baby.
Breastfeeding is not always easy – that's why we're here.
We work with you. What are your goals?
Thank you for your continuing support as we do our best to continue to provide free breastfeeding support to the amazing women of Gloucestershire.
If you are able to donate to help GBSN keep going, we would be more grateful now than ever before.
"Help when I needed it most. No pressure, no judgement. Just care." – GBSN attendee 2018

"Baps was absolutely crucial, and still is, to me during my breastfeeding journey.  Without them in the first few weeks I could have easily given up from not knowing where to turn." – GBSN Attendee 2018