BABES: Breastfeeding and Babies' Early Support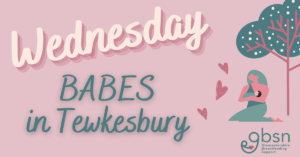 Wednesdays 10 am -12 noon
Wheatpieces Community Centre, Columbine Road, Walton Cardiff, GL20 7SP (off the A38 bypass, not in the small village of Walton Cardiff from A438)
What3words: astounded.relaxed.roofs
There is plenty of onsite parking. There is limited space for pushchairs so you may like to consider bringing your baby in a sling.
Breastfeeding Counsellor Jane and the team of Peer Supporters look forward to welcoming you.
We provide refreshments! Please bring whatever you need for yourself and your family eg changing mat, playmat, toys.