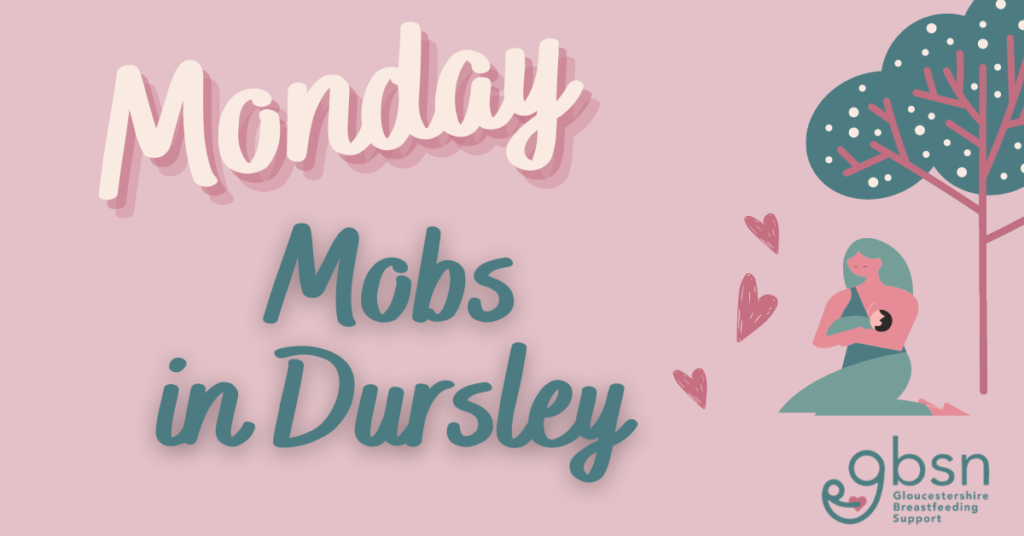 MOBS: Mothers Offering Breastfeeding Support – Dursley
CORONAVIRUS UPDATE – PLEASE CLICK HERE to see urgent message from our Trustees.
Mondays
10:00 – 12:00
St James Parish Hall,
St James The Great Church,
Broadwell,
Dursley,
Gloucestershire,
GL11 4JE
MOBS in Dursley is an informal, friendly support group. We have a seating area where you can socialise with other mums and get information from peer supporters. A quieter space is available for discussions with our Breastfeeding Specialist Worker. We have a large play mat with toys for younger babies and older children, who are most welcome at the group. There are always hot drinks and biscuits on offer.
We sell nursing bras and have a good selection to choose from. Bras can be fitted for you by a trained peer supporter. We have a well-stocked library with books that can be borrowed free-of-charge.
We hold a special [email protected] Dursley week on the third Monday of the month this may be changing, sorry however please note that pregnant women are always welcome every week and mums with babies are still very welcome on this day too!
MOBS Dursley is free to attend. As we are a small self-funding charity, we are always very grateful for donations, whether by cash or paypal.
MOBS Dursley is held 10-midday every Monday (excluding bank holidays) in St James Parish rooms which are directly behind St James' church, the large church in the centre of Dursley by the market place. Access is best via the main church gates and then you walk either to the left or right of the church and follow the path directly behind to the Parish rooms.
PARKING, PUBLIC TRANSPORT & ACCESS
Accessibility: The Parish rooms is wheelchair accessible and has disabled toilet facilities. Pushchairs can be parked inside the main room to the left as you walk in the saloon doors. There is no specific baby change facilities but families are welcome to change their babies in one of the two rooms, we can provide a change mat. We do ask that nappies are disposed of off site. 
Car parks: There are a few car parks in town but arguably the best for MOBS is the long stay car park half way down Long Street on the left. MOBS is a few minute walk up the hill. 
Public Transport: Dursley has a central bus station (May Lane Bus Station) located next to the library. MOBS is a 5 minute walk down the high street. Dursley bus routes serve Bristol, Thornbury, Berkeley, Wotton, Gloucester, Stroud, Uley & Nympsfield. Bus route information can be found on the town council website here:
https://www.dursleytowncouncil.gov.uk/travelling-by-bus.html